How to Fix "Cmdtype.xml" error
If you meet "Cmdtype.xml" error(like below picture) when running Youtube Movie Maker, please use below solution to fix this error.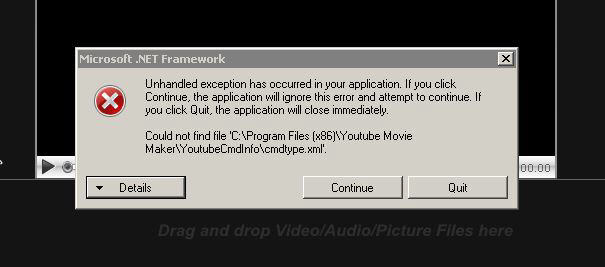 Solution:
If you meet this error on Windown 7 or later windows system:
Please right click Youtube Movie Maker program icon on windows desktop, then select "Properties" -> " Compatibility", then check "Run this program as an administrator", then run Youtube Movie Maker again.
If you meet this error on old Windows XP:
Please download and install Mircrosoft .NET Framework2.0, or uninstall previous version then directly download and install Youtube Movie Maker(Built-in Microsoft .NET Framework 2.0 version).
"Youtube Movie Maker, the First, unique video editing software made specifically for YouTube."
Easy to Make the Best Videos for YouTube - Free and Easy To Use!