We built a creative "Videos Promotion System" on Youtube Movie Maker v5.59 and above version, this system can help the users to get more real views on YouTube.
You can Click Here to view a step by step guide about how to use this system to promote Youtube videos.
Youtube Movie Maker - YouTube Video Promotion
We abide by Youtube's rule, we don't sell views, we just create a youtuber connections to help the youtuber to switch views, view other youtuber's videos, we will earn Credits, and pay Credits to promote our videos(get real views from other Youtuber.).
Initially we have 20 Credits once we SignIn YouTube successfully by using Youtube Movie Maker(run Youtube Movie Maker, press "Promote Videos" and SignIn), then we can select up to 10 videos to promote at the same time, once these videos get view through this system, we need to pay "CREDITS" for each view. If we don't have enough Credits, this video promotion system will stop promoting the videos, you have to earn the Credits first, here are three ways to get the Credits.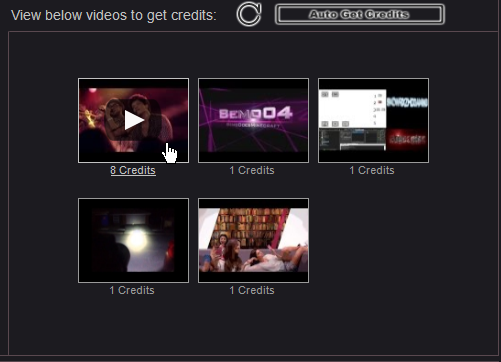 1. Manually view each video to get free Credits, each video can only be viewed one time, press the "Refresh button

" to remove the viewed videos and display new videos.
2. Click here to upgrade the Free Edition to Gold or Platinum Edition, then you can press "Auto Get Credit

" button to enable "Auto Get Credits" funtion, then the progam will auto view other user's videos to get Credits quickly, but you have to open the progam to keep this function running.
3. Directly buy Credits from below list, once successfully, please mail your YouTube Channel Name(or Your YouTube Channel Address) and Order ID to us, we will add your Credits within one working day, and please note: As long as there is enough Credit, this system will keep promoting your videos, and even you don't need to run our program.
| | | |
| --- | --- | --- |
| Credits | Price | BuyNow |
| 1000 Credits | US$ 5.00 | BuyNow |
| 3000 Credits | US$ 13.50 | BuyNow |
| 5000 Credits | US$ 20.00 | BuyNow |
| 10000 Credits | US$ 35.00 | BuyNow |
Please contact us again after 1 working days if you do not receive right Credits.
"Youtube Movie Maker, the First, unique video editing software made specifically for YouTube."
Easy to Make the Best Videos for YouTube - Free and Easy To Use!